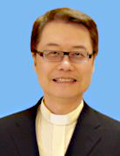 Fr. Victor Li
Pastoral Message
for Sunday, April 11, 2021
Hi Everyone,
Easter is a season of 50 days, not just Easter Sunday.
On this the second Sunday of Easter, (traditionally Low Sunday, down from the high festival last week) we hear again my favourite story of Thomas ... I like it better than all the other Biblical stories.
Why?
Read further or take a listen to my reflection on
"The Conversion of Thomas"
,
here →
For those who wish to join in worship via Zoom together at 10:00 am this Sunday (live),
please refer to the instruction on the second page of the
Order of Service,
here →
Do join the meeting earlier to visit with one another -- the Zoom meeting will be open after 9:40 am.
If you cannot join us on Sunday morning, please follow the Home Worship materials at your convenience.
You are invited to click on the links for the hymns to listen & sing along!
We are grateful for technology, allowing us to remain virtually connected to each other
and united in the Spirit of God, despite our physical separation.
God's Blessings and Peace be with you!
Fr. Victor
__________________________________________________
2nd Sunday of Easter, April 11, 2021

Follow the Order of Worship here →
Follow the Homily, "The Conversion of Thomas", here →
______________________________________________

______________________________________________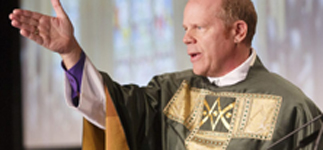 The Right Rev. Andrew Asbil
Bishop Andrew's Latest Message to the Diocese
posted on Friday, April 9, 2021
Dear Friends in Christ:
This week, I am participating in a four-day online conference: The White Privilege Conference offered by The Privilege Institute in the United States. An annual event, in previous years several members of our Intercultural Committee and staff attended and recommended it to the College of Bishops. So this year, ...
Continue reading here →
_____________________________________________

Margaret Black
Tri-Churches Parish Nurse
Your latest Parish Nursing Health Tip
for the week of April 4, 2021
The Incomparable Gift
Holy week and Easter weekend: I have been thinking about "the incomparable gift" this week, but struggling with conflicting ideas. Originally the answer was "Life". Then I thought about the homeless, the prisoner, the sick and grieving, the lonely, etc. For many people life is NOT a gift but an en endless, meaningless struggle. Then "Love" suggested itself to me. So important, but somehow incomplete. Today, after the Maundy Thursday & Good Friday services, the obvious answer came to mind.
Where do Love & Life intersect?
In Jesus on the Cross. As others have noted, it wasn't Roman soldiers, Jewish rabbis, and nails that put Jesus on the Cross. It was Love. And that Love gave all of us Life, both here and in eternity. Life filled with God's Love is God's "incomparable gift" to us. Like all gifts, we are meant to use and enjoy it.
But how do we live this "incomparable gift" in our own lives?
When we are sick, in pain, grieving, lonely, afraid, we don't feel joyful. And that's OK. These are normal human experiences which we have to acknowledge and live through, but we will get through them. When I think about what Jesus must have gone through on the Cross and on the days leading up to it, whatever I'm experiencing, pales in comparison. But Jesus accepted it as God's will and that helped Him to fulfill it.
Although sometimes our problems are self-inflicted, other problems are just part of living. Whatever the source of our problems, we also have to accept God's will and follow where He leads us. Reading and talking about it is not enough. We have to allow ourselves to experience God's Presence on a daily basis. For me this may happen in seeing a beautiful sunrise, receiving a call from a loved family member or friend, or in recognizing the abundance of my life (a roof over my head; a full fridge; heat when I'm cold; clean water, hot or cold, for a shower or drink at the touch of a tap). Having spent a couple of months in Kenya on a mission trip has made me acutely aware of things we accept here as a normal part of life.
How then do we live in a way that helps others experience God's Love in their lives?
Right now we are limited by COVID restrictions, but there are still avenues open to us. I might call someone I know who is lonely, or offer to pick up something at the store for a friend who can't get out, or donate to a charity for the homeless.There are many possibilities. Just pick one thing a day that can help someone else and you will have made a difference in their life. That is the Living God's Love.
Wishing you a Blessed, Happy, Healthy Easter.


Margaret Black
______________________________________________