Learn more about us
here ...

Please take time and acquaint yourself with our programs, ministries and worship.
I think you will be impressed with the activities and the fellowship you will find in our congregation.

Note particularly the strong focus on ecumenical life, which has always been central for us and the other members of the Tri-Churches community. This emphasis provides a whole new
and enriching aspect to our lives.

Please know that we are always delighted for you to worship with us at St. Cyprian's.


---
Tri-Churches
---
Ministries
---
You Were Asking
---
Who is St. Cyprian
---
Parish Nursing
---
Contact Us
---
Links
---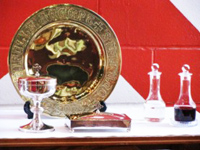 1080 Finch Avenue East, North York, Toronto
(just east of Leslie and Finch, north of the 401)

Map




Office Hours
Tuesday to Friday
9:30 am to 12:30 pm

Phone
416 494-2442

e-mail



Sunday Services


Holy Communion at 9:30 am
every Sunday

Sung Eucharist at 11:00 am
1st, 3rd & 5th Sunday of the month

Morning Prayer at 11:00 am
2nd and 4th Sunday of the month
(except Holy Days)

Occasionally, there will be a combined Communion service at 10:30 am.
We also have a Sunday school and a nursery.